Higginson Park, Pound Lane, Marlow, Bucks, SL7 2AE. Clubhouse Tel No : 01628 485274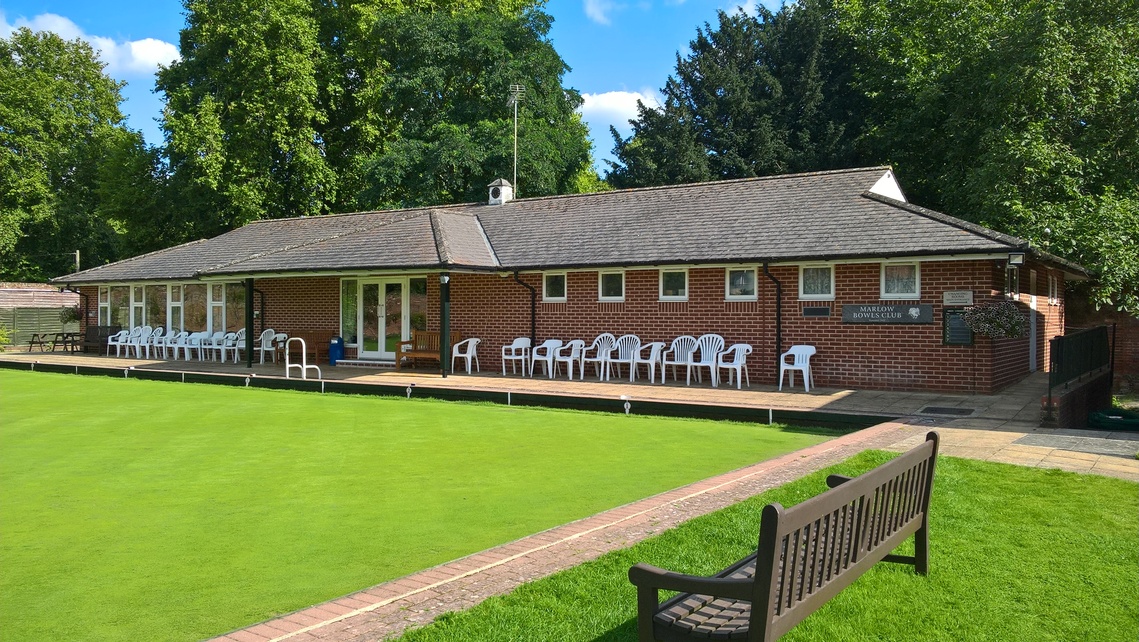 PLEASE REFER TO THE NEWS PAGE REGARDING UPDATED CLUB INFORMATION.
WE ARE NOW IN THAT PERIOD WHERE MANY CLUB MEMBERS ARE NOW EITHER BOWLING INDOORS OR JUST BIDING TIME UNTIL THE COVID SITUATION IMPROVES, BUT WHATEVER OCCURS MAKE SURE YOU STAY SAFE, STAY HEALTHY AND ABOVE ALL STAY POSITIVE.

There are lots of Finals Weekend pictures and also Club Dinner photos on the Photo Gallery page. The social functions that the club had arranged for this year courtesy of Don Isaacs are obviously under pressure and most members will know that these functions have all been cancelled.
Photos thanks to Peter Butler.
Marlow Bowls Club has now completed its 100th year and our sights were set on another successful outdoor bowls season through 2020 but of course the Covid-19 pandemic curtailed our season from the start.
but we managed to get some bowling with Felicity Rees organising internal club singles and pairs matches that gave us the semblance of normality to the situation.
There has been an extreme effort in maintaining both the green and the surrounds during this period, see the details of that on the News page. We are in great need of financial support to ensure the club can keep going and of course with no immediate vaccine in sight it is unlikely that the situation will return to complete normality for some time so financial help will continue to be important for the future of the club.
This is a scenario which of course applies to many clubs, associations and of course businesses so it is vital
that we are in a position to stabilise the future of the club and thus the community that it serves.


Our new President is one of Marlow's longest serving members John Henniker and he is taking the lead along
with several other club members during the pandemic.
-----------------------------------------------
If you wish to find out about the County matches you have entered for next summer please go to the Links page on this site and click on Bucks Bowls and look for Mens or Womens Competitions. You can also find out the Bucks County League Bowls and Bucks Cup fixtures on the same website.

---------------------------------------------------------------------------------------------------------------------------------


The Club Fixtures page gives you a layout of all the club fixtures throughout the season and when possible a breakdown of the teams selected and directions etc.

The News and Views page gives you notice of various announcements and snippets of news relating to the club, and is probably the best page to look at on a regular basis, particularly pre-season.

The Photo Album is available for all bowls related pictures and club members are invited to submit any snaps for inclusion. Preferably by email to paulrsimmons@sky.com.




The Useful Links page provides websites that should be of interest to most of you. Although we cannot vouch for the weather on the weather site too accurately but if it was as good as last year then YIPPEE !

The Forms and Documents page contains several items including the Membership Application form, Short Mat Newsletter, and Club Competition form, plus others

.


The Match Reports page will feature reports on various games and matches that take place be it outdoor,indoor or short mat matches.
Social Events page will carry future events so keep an eye on things here if you cannot get down the club to view the board.
The Short Mat bowls page will give you information on what's happening in the clubhouse short-mat sessions that take place during the winter months.
Website address - www.marlowbowls.co.uk or www.e-voice.org.uk/marlowbowls/

We do hope you enjoy our website and that it provides a good source of information for all current bowling members and for outsiders alike and it may prove the impetus for you to come along and try your hand at this absorbing game in a very pleasant and relaxing environment.
------------------------------------------------------------------------------------------------------------------------------
| | |
| --- | --- |
| PRESIDENT | JOHN HENNIKER |
| VICE PRESIDENT | FELICITY REES |
| HON SECRETARY | PETER BARLTROP |
| HON TREASURER | DES WATKINS |
| MENS CAPTAIN | IAN BURNS |
| LADIES CAPTAIN | GERALDINE PERRIN |
| MENS MATCH SECRETARY | GEORGE MALSTER |
| LADIES MATCH SECRETARY | JEAN BARLTROP |
| BAR MANAGER | BOB COOMBS |
| BUILDING MANAGER | STEVE TIGHT |
| SOCIAL SECRETARY | DON ISAACS |
| COUNTY REP | DON ISAACS |
| SHORT MAT REP | PAM BUTLER |
| Non Committee Posts | |
| PRESS OFFICER | ANDY SAVIN |
| GREEN LIASION OFFICER | |
| COMPETITION SECRETARY & ASSISTANT | FELICITY REES & MAGS SHELLEY |
| MENS VICE CAPTAIN | MARTIN TIMBRELL |
| LADIES VICE CAPTAIN | ANGELA MOSS |
| SHORT MAT CAPTAIN | MIKE WOOLAMS |
| AUDITOR FOR 2020 ACCOUNTS | PETER BURGESS |
Contact Information
16 Pound Lane
Marlow
Bucks
SL7 2AU
01628 476835